Implementing a new model of disease surveillance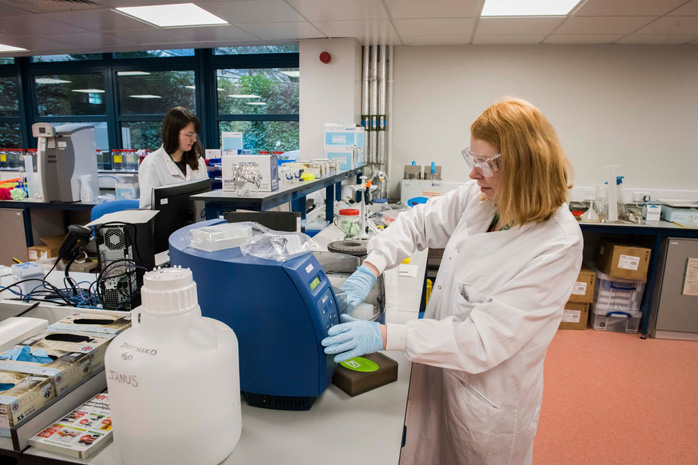 "SRUC Veterinary service team members carry out testing on samples at the Veterinary and Analytical Laboratory"


Following an internal consultation, Scotland's Rural College will progress with the new model of disease surveillance announced in August 2019.
This will see Veterinary Surveillance Hubs replacing Disease Surveillance Centres and post-mortem rooms in Ayr and Perth at the end of January 2020. A Veterinary Hub is already operational in Inverness. The post-mortem rooms in Thurso, Aberdeen, St Boswells and Dumfries will continue to be operational.
As part of the new model, SRUC Veterinary Investigation Officers across the country will spend more time on outreach and delivering training. By identifying more efficient diagnostic strategies, the need to transport carcasses should be reduced. SRUC has begun speaking to local farm vets to arrange training on investigative strategies and methodology.
The Veterinary Surveillance Hubs will support on-farm investigations or arrange post-mortem examinations at alternative sites when required by the wider regional and national disease surveillance programme. This decision will be made locally by the Veterinary Investigation Officers. Some support will be available to transport carcasses in exceptional cases.
SRUC is planning a phased integration of testing facilities at the Veterinary and Analytical Laboratory near Edinburgh. Diagnostic testing at Ayr and Perth will close at the same time as the post-mortem facilities. Diagnostic facilities in Aberdeen and Thurso will close at the end of February, while those in Dumfries will remain open until May.
Vets will be able to send samples directly to the Veterinary and Analytical Laboratory or drop them off locally for onward delivery. A new online LabPortal will be launched to speed up the delivery of results to vets, improve tracking and reduce administration. From dispatch to receipt, testing times will not be affected by the move, with some test results available sooner.
SRUC will continue to provide proactive information on disease risk. This will be enhanced through the new Disease Intelligence Unit that will combine clinical and production data to give an earlier warning about potential diseases or areas for investigation.
SRUC is now arranging meetings with local farmers and vets to discuss the changes.
George Caldow, SRUC's Head of Veterinary Services, said: "We are now in a position to begin the implementation of the new model. Some farmers close to post-mortem facilities in Ayr and Perth will see a change in the service. However, by focussing on working with vets on investigation strategies and on-farm sampling, we can improve the service for others. We are working hard to ensure the testing service continues to deliver on time and, in some cases, even sooner.
"We are confident the new model will deliver the vital disease surveillance service for the Scottish Government both nationally and locally, while making the required efficiency saving. As we do now, we will continue to develop and tailor the service for local areas."
Posted by SRUC on 13/11/2019