Gift horses for equine students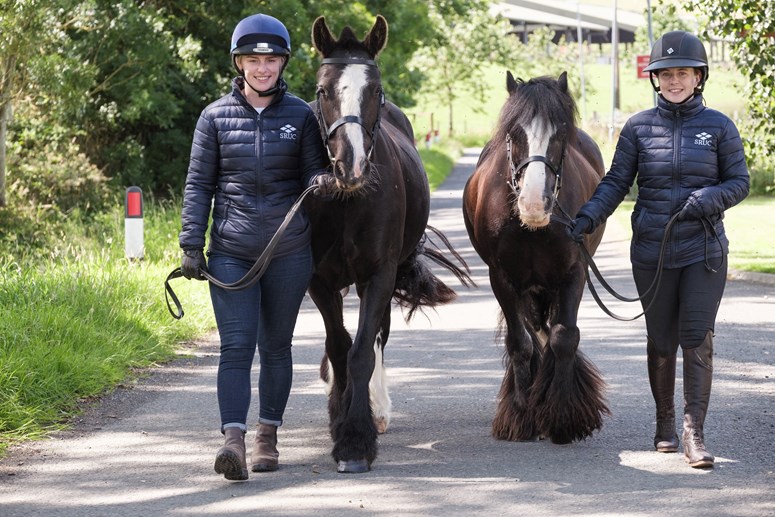 Equestrian Facilities Manager Rachael Robertson (left) and Yard Manager Emily Stewart (right) with Millie and Conrad.
Two new horses have joined the stable at SRUC thanks to a generous donation. 
Julia and Hans Rausing donated £10k to the Scottish National Equestrian Centre (SNEC), based at SRUC's Oatridge campus in West Lothian, to mark the accession of Her Majesty the Queen Consort - who in her former role as Duchess of Rothesay was a patron of SNEC. 
The horses will support the teaching of a range of Horse Care and Equine Studies courses offered at Oatridge – including a new degree course in Equine Science and Management. 
At 13.2 hands, 13-year-old cob gelding Conrad is the smallest horse in the stable but has adapted well to his new life being used for practical tasks and ridden work.  
Millie, a 14.2 hands, seven-year-old cob mare, was a much loved, privately-owned, child's pony who is very easy to handle. 
In September, Conrad and Millie will start their work with students as part of the Horse care and Equine Studies courses, as well as taking part in British Horse Society-accredited exams. 
Rachael Robertson, Equestrian Facilities Manager at SRUC Oatridge, said: "We are extremely happy to have these two new additions to our team.  
"Millie has impressed us with her jumping and Conrad has a very attractive moustache he is immensely proud of, as well as beautiful fluffy 'feathered' feet. 
"Both horses have a fantastic nature and I'm sure the students will enjoy working with them." 
Posted by SRUC on 24/08/2023