Free woodland advice for crofters and smallholders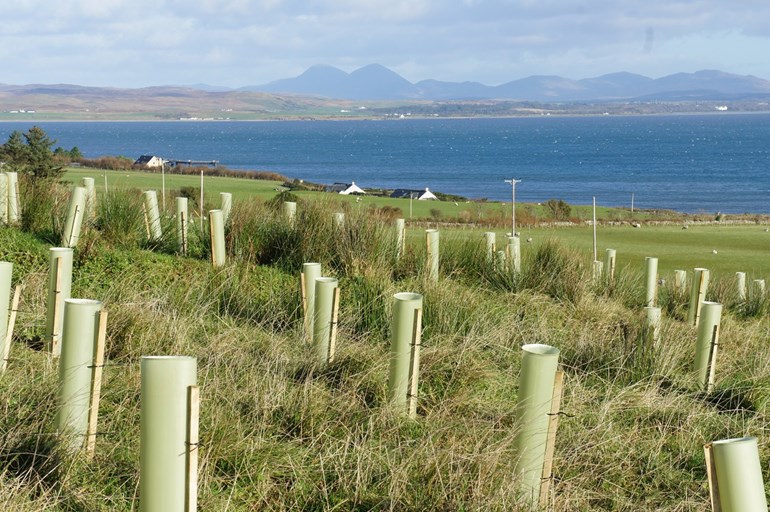 Tree planting at Bruichladdich, Islay (WTML Iona Hyde)
Free advisory visits offering help to access grants for tree planting and woodland management are being offered to crofters and smallholders.
The Scottish Government's Farm Advisory Service, delivered by SAC Consulting - part of SRUC, is working in partnership with Woodland Trust Scotland to provide advice on agroforestry and help crofting communities establish new woodland.
The Woodland Trust Scotland's Croft Woodland Project also provides support to establish hedges and shelterbelts and manage existing woodlands.
There is little tradition of woodland management in crofting as, until 1991, these rights were reserved for landowners, not their crofting tenants.
However, there are many benefits to planting trees on crofts, from improving productivity and offering opportunities for diversification, to increasing carbon capture and providing habitats for wildlife.
Janette Sutherland, from SAC Consulting, said: "This offering from the Farm Advisory Service and the Croft Woodland Project will give crofters excellent advice on managing or creating woodland on their crofts, bringing a range of benefits to land, crops and livestock.
"FAS has many other useful resources for crofters, including guides to starting up and succession, as well as further advice through our Young Crofter subscription or a Specialist Advice plan."
Iona Hyde, from Woodland Trust Scotland, said: "We are delighted to be working with the Farm Advisory Service to promote woodland creation and management across the Highlands and Islands. 
"A new online tool should make accessing advice and support from the advisors easier for crofters and smallholders across the crofting counties."
To request a free visit from a woodland advisor, fill in the form on the Farm Advisory Service website at: www.fas.scot/croft-woodland
Posted by SRUC on 09/06/2023