Former Agriculture student wins £1k Norvite Scholarship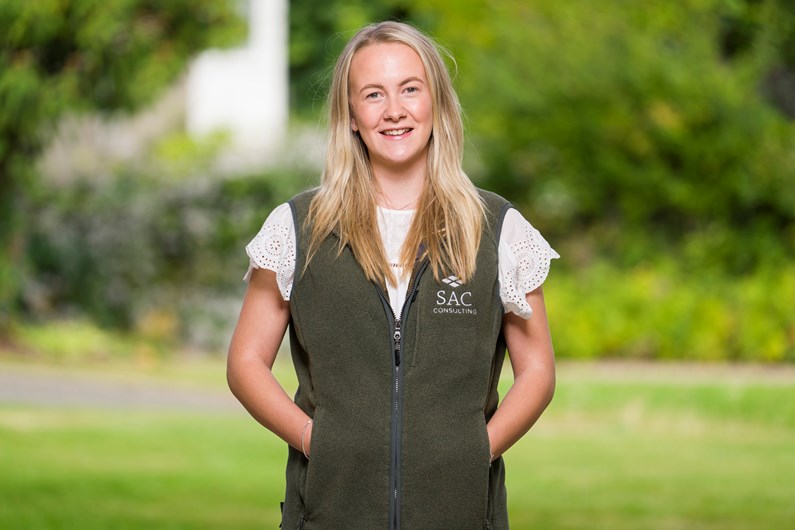 Norvite Scholarship winner Shannon Farquhar is now working with SAC Consulting
A former Agriculture student from SRUC has been awarded a Norvite Scholarship, which celebrates its 10th anniversary this year.
Shannon Farquhar, who graduated from SRUC Aberdeen with a First-Class BSc Honours degree in Agriculture last month, won £1,000 in recognition of her dissertation which used carbon audits to measure methane emissions from suckler herd farms across Scotland.
The Norvite Scholarship was established in 2013 as a legacy of Norvite's 40th anniversary.
David McClelland, Norvite's Technical Director, said: "I am delighted to continue our support for this award.
"Over the years dissertations have covered a wide variety of topics investigating the effect of a variety of nutritional additives, physical feed distribution and benchmarking physical performance and economic performance.
"The work Shannon has done with Agrecalc could not be more topical, as agriculture faces the challenge of addressing its carbon emissions. Shannon's focus on the Scottish suckler herd is very relevant as this forms a pillar of Scottish agriculture and is significant to Norvite's business.
"Measuring and understanding greenhouse gas emissions is the first step towards managing our impact and reaching mandated Net Zero targets. I would like to congratulate Shannon for her work, which marks her as a student of distinction, and wish her well as she starts her career with SAC Consulting."
Shannon, who also received the Malcolm Castle Memorial Prize for the best honours dissertation for agriculture at the Graduation Ceremony on 28 August, is now working as a Trainee Agricultural Consultant with SAC Consulting (part of SRUC).
She said: "I completed my dissertation using carbon audits from more than 822 suckler herd farms across Scotland. Coming from a family farm which runs 180 suckler cows and completing carbon audits though the suckler beef support scheme, I was curious to find out if there was significant variation within the industry.
"I split herds based on location and calving period. Across all farms, enteric fermentation, a natural process that occurs when cattle digest their feed in the rumen, was found to be the largest contributing factor.
"When the data set was split on location, hill suckler herds produced significantly more carbon per weight of output. When I investigated this further, factors influencing these systems included reduced purchased concentrates feeds which may have resulted in a slower finishing and growth period.
"Overall, output may also have been affected by pasture quality, herd genetics, herd health and overall management. However, the carbon output figures do not express the vital part that hill systems play in producing a high-quality protein source from significantly poorer quality forages.
"In terms of the future of reducing emissions from cattle, new feed additives which will naturally reduce methane emissions provide an exciting opportunity for the industry. I hope that with new feeds and improved management that beef farming can be viewed as a positive method of food production as opposed to a problem."
Alex Hilton, SRUC's Honours Project Coordinator at Aberdeen, said: "Shannon has used the findings from her project to update Agrecalc which will assist farmers trying to reduce their carbon footprints.
"Industry-led projects like this are helpful in developing a student's professional skills as well as providing links with potential employers.
"I am delighted Norvite is continuing to support this award in 2023-24. This is a great opportunity for students to work with the company and to research something that could offer benefits to the wider industry.
"This term fourth year students on the Agriculture, Animal Science and Rural Business Management courses will have the opportunity to submit a proposal to Norvite with the winner not only receiving a financial prize but also valuable advice and support from staff at Norvite."
Posted by SRUC on 20/09/2023