Farming must be part of the climate change solution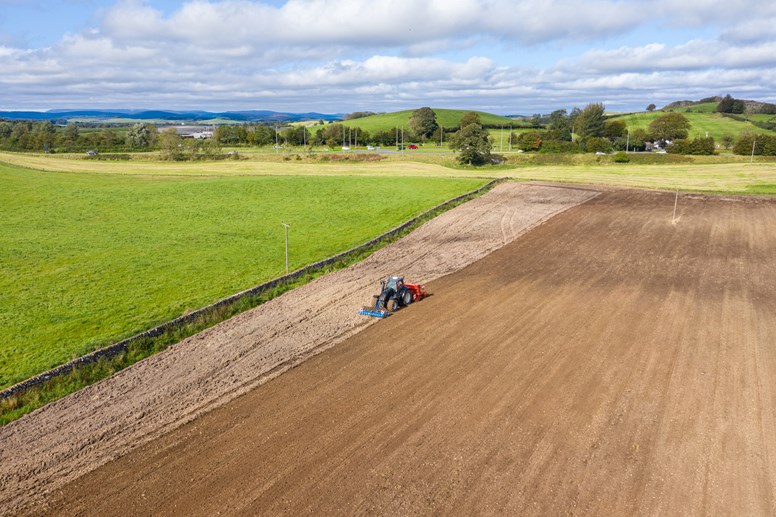 Major land use changes will be required to sequester more carbon and thereby offset emissions.
Following this week's report by the Intergovernmental Panel on Climate Change (IPCC), SRUC's Professor Davy McCracken looks at what the hard-hitting report means for Scotland's food producers.
The Intergovernmental Panel on Climate Change (IPCC) was created to provide policymakers with regular scientific assessments on climate change and to put forward options to help adapt and mitigate the implications and risks associated with a warming planet.
The most recent IPCC report was published earlier this week and it is stark and hard-hitting. The weight of evidence is overwhelming, with the full report running to thousands of pages and even the summary for policymakers 'only' being 40 pages long. 
Nevertheless, the main thrust can be summarised as follows: 
The extreme events (e.g. floods, droughts and wildfires) we are seeing across the globe are down to climate change, and it is unequivocable that human activities have driven that change
The planet is now warming rapidly, with the result that such extreme events will occur much more regularly and it's going to get worse before it gets better
And it will only get better – in terms of reducing the amount of warming that will occur by the middle of the century – if marked reductions in CO2 and other greenhouse gas emissions occur in the coming decades
We know that farming is an important emitter of greenhouse gases and hence there is a need to change farming practices and systems to reduce the amount of those emissions in the future. 
But as well as being part of the problem, farming also has a major role to play in being part of the solution. In particular, major land use changes will be required to sequester more carbon and thereby offset the emissions that – although reduced – will continue to be associated with our food production. 
Addressing the ongoing climate emergency - and the associated biodiversity crisis – will therefore mean farmers and crofters in Scotland adopting a new direction of travel, one which involves producing wider environmental outcomes in addition to agricultural products. 
SRUC and SAC Consulting play a leading role in developing new approaches to the measurement and mitigation of greenhouse gas emissions from farming. And we are also involved in a wide range of initiatives providing advice on how those approaches could be implemented on the ground. 
Last year, the Scottish Government asked myself and colleagues if increasing environmental conditionality on direct payments (i.e. requiring land managers to do more actions on the ground voluntarily in order to qualify for public funding) could help deliver the scale of environmental benefits that is needed. 
The simple answer was 'Yes' and that this could help provide a range of water quality, biodiversity and climate change benefits. 
For example, making it mandatory for all farms to establish and fence-off wide margins next to watercourses would provide water quality and biodiversity benefits. And conducting a carbon audit and putting in place a nutrient management plan would identify where greenhouse gas emissions could be reduced. 
But we also highlighted that it will be essential to embed this approach within a new wider package of support designed to help the transition of farmers and crofters to the new ways of working required.  
Two recently published reports will hopefully help stimulate further consideration of what such a common framework needs to look like. 
The Farming for 1.5 Degrees final report 'From here to 2024' and a policy briefing from NFUS on 'The Transition to Future (Conditional) Agricultural Support' provide suggestions on how future policy could deliver on food production, climate change and biodiversity. 
The NFUS briefing pulls together the recent work of the five Farmer-Led Groups – including the one focussed on Hill, Upland & Crofting - and hence is intended to suggest a common way forward for both farming and crofting in Scotland. 
Both reports acknowledge the need for a transition period to a new support policy and for that new framework to reward those who deliver on public goods. Just as importantly, both reports urge the Scottish Government to start the process of transition as soon as possible. 
The need for urgency is echoed in the IPCC report, where it emphasises that if governments don't start down the pathway to Net-Zero now, the scale of the problem will only get bigger.  
And getting bigger doesn't just simply mean the danger of global temperature increasing by more than two degrees centigrade. It also means that the more the temperature rises above that level, the more extreme and unpredictable climate events will become. 
There has been a lot of talk about how agricultural support in Scotland could potentially change in the short, medium and long-term.  
But what we particularly need now is action. So it is essential that we move on from discussions about what 'could' be done and instead put in place the policy framework that ensures that the actions that 'need' to happen on the ground 'will' actually happen. 
Only by doing that will it become clearer to our farmers and crofters what large-scale changes they need to start making to their systems and practices now, before it becomes too late to make any real difference. 
Professor Davy McCracken 
Head of SRUC's Hill & Mountain Research Centre 
Further reading 
Background on agricultural policy reform in Scotland 
Challenges and opportunities facing hill farmers in Scotland
Posted by SRUC on 11/08/2021