Ex-student Scott named Arable Farmer of the Year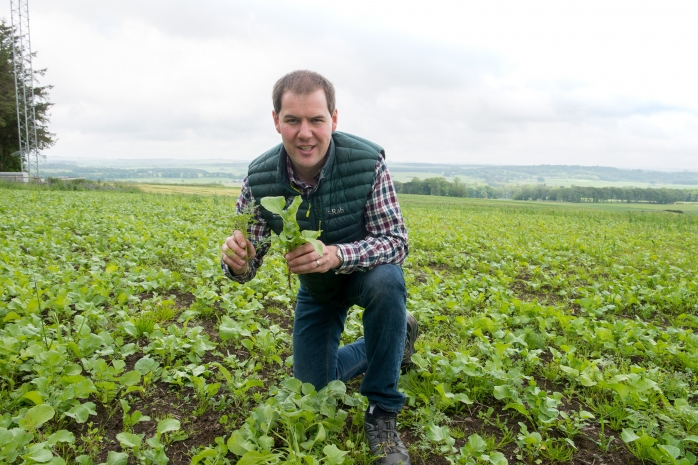 "Scott Campbell, Farmers Weekly Arable Farmer of the Year, studied at SRUC's Craibstone campus. Picture: Angus Findlay"


A former student from Scotland's Rural College has been named Arable Farmer of the Year.
At a glittering ceremony in London, Scott Campbell collected a Farmers Weekly Award for "transforming" the family business in Aberdeenshire by cutting costs and raising yields.
Scott, who graduated with an HND in Agriculture from SRUC's Craibstone campus in 2004, was praised by judges for "being ready to take on whatever lies ahead, while also striving to benefit the environment and local community".
Despite a challenging climate and thin, stony soils at Kirkton farm, Scott is producing wheat for less than £85 per tonne. This was, said the judges, a figure that growers in England with far easier soils and climes would be envious of.
Scott is the fourth generation of the Campbell family to take the arable reins and, over the past 12 years, he has transformed the family business by cutting costs and raising yields.
He has also single-handedly nursed the arable enterprise back into health, ready for life after Brexit, in order to be profitable without the need for subsidy payments.
Over the years, he has continued his successful relationship with SRUC. In addition to hosting grass trials, he also helps to host the Winter Wheat Challenge – an annual competition for students to grow the highest-yielding plot.
Scott said: "Winning the Farmers Weekly Arable Farmer of the Year award was overwhelming. It was a brilliant evening and event all the way through and gave me a chance to evaluate our business.
"It took a lot of work and time getting through the application shortlist, taking me back to my days in the classroom at Craibstone! It has been great being involved with SRUC trials and students since I left in 2004. Studying at SRUC has led to many opportunities and definitely boosted my confidence for the future. Whatever happens with Brexit, I hope the future farming years are as good as the ones I have had."
Professor Wayne Powell, Principal and Chief Executive of SRUC, said: "I would like to congratulate Scott on receiving this prestigious award.
"It's always wonderful to see our former students excelling and making a difference and we're delighted that our relationship with Scott has continued since his graduation."
Posted by SRUC on 08/10/2019