Equality, Opportunity, Community: What does it mean for Scotland's rural communities?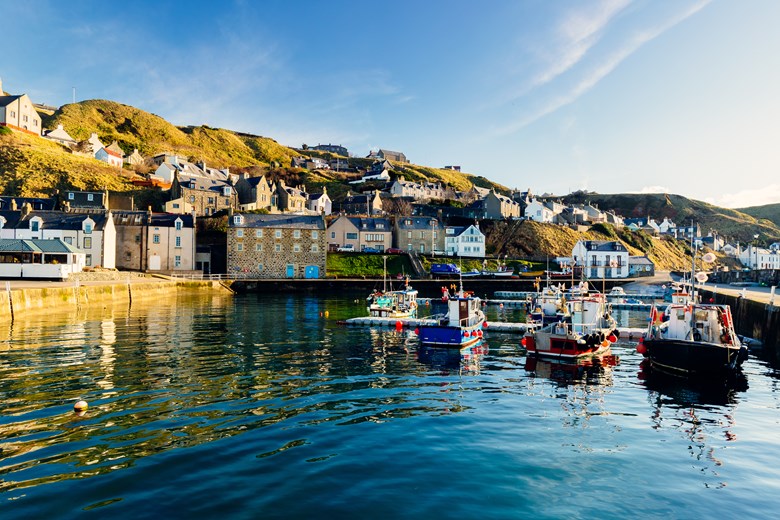 Gardenstown Village, Aberdeenshire
This week saw Scotland's First Minister Humza Yousaf announce his (first) Programme for Government 2023-24. The document - 'Equality, Opportunity, Community' - reflects the three missions set out by the First Minister in his leadership statement in April 2023 and, in terms of its broad aims, does not shy away from the big issues facing Scotland today. It is:  
"unapologetically anti-poverty, pro-growth which is both fair and green, and focused on delivering high quality public services…. It is focused on reducing poverty and offering practical help and support, particularly to the most vulnerable in our communities. It seeks to attract investment, drive innovation and grow our wellbeing economy…" (p3)   
While clear in its vision and mission for the country as a whole, it is important to consider whether this Programme for Government adequately addresses rural communities specifically.  
At a time when public finances are tight, governments are needing to make choices about their priorities for funding. Rural and island communities and issues are often not identified as priorities because the return on investment from smaller numbers of people and higher costs of delivery may be much less in rural and island locations. But if the First Minister is to achieve his ambition of delivering a wellbeing economy which is 'fair, green and growing', policies do need to deliver for rural and island Scotland as much as they do for urban Scotland. 
The document makes reference to the Rural Delivery Plan (on which work has already started) and the need to tackle the significant housing challenges in rural and island locations. The Programme mentions the £25m fund to provide homes for key workers in rural areas, which has already been established, and there is a commitment to build 11,000 new homes in rural and island communities by 2032. The Remote, Rural and Islands Housing Action Plan will be published by the end of 2023.
Rural and islands housing is one of the 'wicked challenges' that SRUC researchers are exploring in the 'Reimagined policy futures: Shaping sustainable, inclusive and just rural and island communities in Scotland' (ReRIC) project as part of the 2022-27 Scottish Government-funded Strategic Research Programme.  
One of the key factors leading to rural and island housing shortages and unaffordability is the concentration of second homes in some locations. This issue was explored in SRUC's recent Rural and Islands Insight Report 2023 which revealed that some locations (including Millport on Great Cumbrae, parts of the Cowal peninsula and parts of Fife) have over one third of their housing stock taken up by second homes. Adding high proportions of vacant homes in some locations means that locals are unable to afford to live locally.  
While more research is needed to understand the nuances of the second home ownership situation in different places (for example, in terms of whether owners are local or based outside the community, or whether properties are used as Airbnbs or as second residences for urban-based families), the 2023-24 Programme for Government includes a commitment to invest £60m this year in empty homes for use as affordable homes and to enable councils to apply a premium on council tax rates for second homes.  
Measures to address poverty, and particularly child poverty in Scotland are central to the Programme, including through the Scottish Child Payment, free bus travel for everyone aged under 22 and continuing the National Conversation to tackle poverty and expand childcare provision. It is hoped that the six local authority areas (to be announced) where the Government and local authorities will work together to expand childcare provision from nine months to the end of primary school, will include rural and island locations to ensure that the different requirements of families in these locations are understood and taken into account in the approaches adopted.   
These different requirements relate to a number of factors including the higher cost of delivery of services in these locations, the smaller numbers of both staff and children in remote locations where population densities are lower, recruitment challenges (both in terms of experienced staff and new apprentices, often due to housing and/or transport limitations) and the requirement for flexible childcare (on a daily as well as seasonal basis) due to the importance of seasonal and irregular working in rural areas (more information on all of these issues is available in a 2021 Scottish Government report on rural childcare provision and work by SRUC on child poverty in rural and island locations).  
Underlying all of the decisions about policy priorities, how they are delivered and appropriate evaluation tools to gauge their impact, there is a need for evidence-gathering and research. The projects being delivered by SRUC and other SEFARI partners through the Strategic Research Programme are an integral part of this dialogue. SRUC staff are also contributing to several current Scottish Government commissions and advisory boards. For example, Steven Thomson is a member of the Just Transition Commission and Professor Mark Reed as a member of the Agriculture Reform Implementation Oversight Board - gov.scot (www.gov.scot).   
The Rural Delivery Plan will be critical in demonstrating how different policy areas are already delivering for rural communities, which lack the legislative planning and commitments for policy proofing that exist for island communities. Even more crucially, how this 'success' is measured is important as, in addition to different delivery mechanisms to achieve policy priorities, different metrics may be required to demonstrate success in dealing with rural challenges. 
The document contains various other commitments to rural issues, including plans to launch a (virtual) National Centre for Remote and Rural Health and Care later this year, to publish and implement Scotland's Good Food Nation Plan, a consultation on crofting law, and reaffirms the commitment to introduce both the Land Reform and Agriculture Bills into Parliament during 2023-24. 

Posted by Rural Policy Centre on 06/09/2023