Drainage guru recognised for work to improve sustainability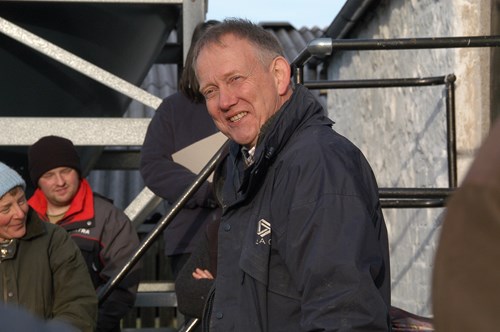 Seamus Donnelly was awarded the Elrick Prize on his retirement
An agricultural consultant with more than 30 years' experience of advising farmers has been recognised for his work to improve the sustainability of land use.
Seamus Donnelly was awarded the Elrick Prize - set up in memory of Senior Consultant Gavin Elrick following his untimely death in November 2020 – on his retirement from SAC Consulting, part of Scotland's Rural College (SRUC).
Described as "a big character", Seamus was an important part of the Wigtownshire agricultural industry, growing his base of clients from 30 in 1988 to 350 last year – around 75 per cent of the active farms in the area - during his time in SAC Consulting's Stranraer office.
Throughout his 34 years, he shared his knowledge and provided support to ensure farmers were able to adapt to the many changes taking place in the agricultural industry.
He was a subsidy expert, helping Wigtownshire farmers gain the maximum they could from various Government support payments and grant schemes – benefiting not only farm businesses, but also the local economy.
He was keen that farmers used this subsidy money to create sustainable businesses, gathering dairy benchmarking information from his milk manager clients and working with both Drumdow and Torhouskie QMS Monitor farms to encourage farmers to look at the technical performance of their beef and sheep farms. 
With a background as a soil scientist, he also became a drainage guru, travelling all over Scotland to deliver talks and demonstrations. This expertise shaped his final two years with SAC Consulting, when he took over the clerks of works duties on the SSE Seagreen project at Carnoustie.
He was nominated for the award by Regional Development Manager Raymond Crerar for his environmental work and in particular his involvement in the Seagreen project.
"Seamus continually went above and beyond to deliver this project and achieve good outcomes for the client and effected landowners," he said.
Seamus said: "It is a great privilege to have been awarded this prize which honours a colleague who always went the extra mile to promote good soil care.
"I feel very humbled to receive this as I step away from what has been a truly memorable and rewarding career with SRUC."
For more information about SAC Consulting, visit: SAC Consulting (sruc.ac.uk)
Posted by SRUC on 06/02/2023