Donations amount to more than just chicken feed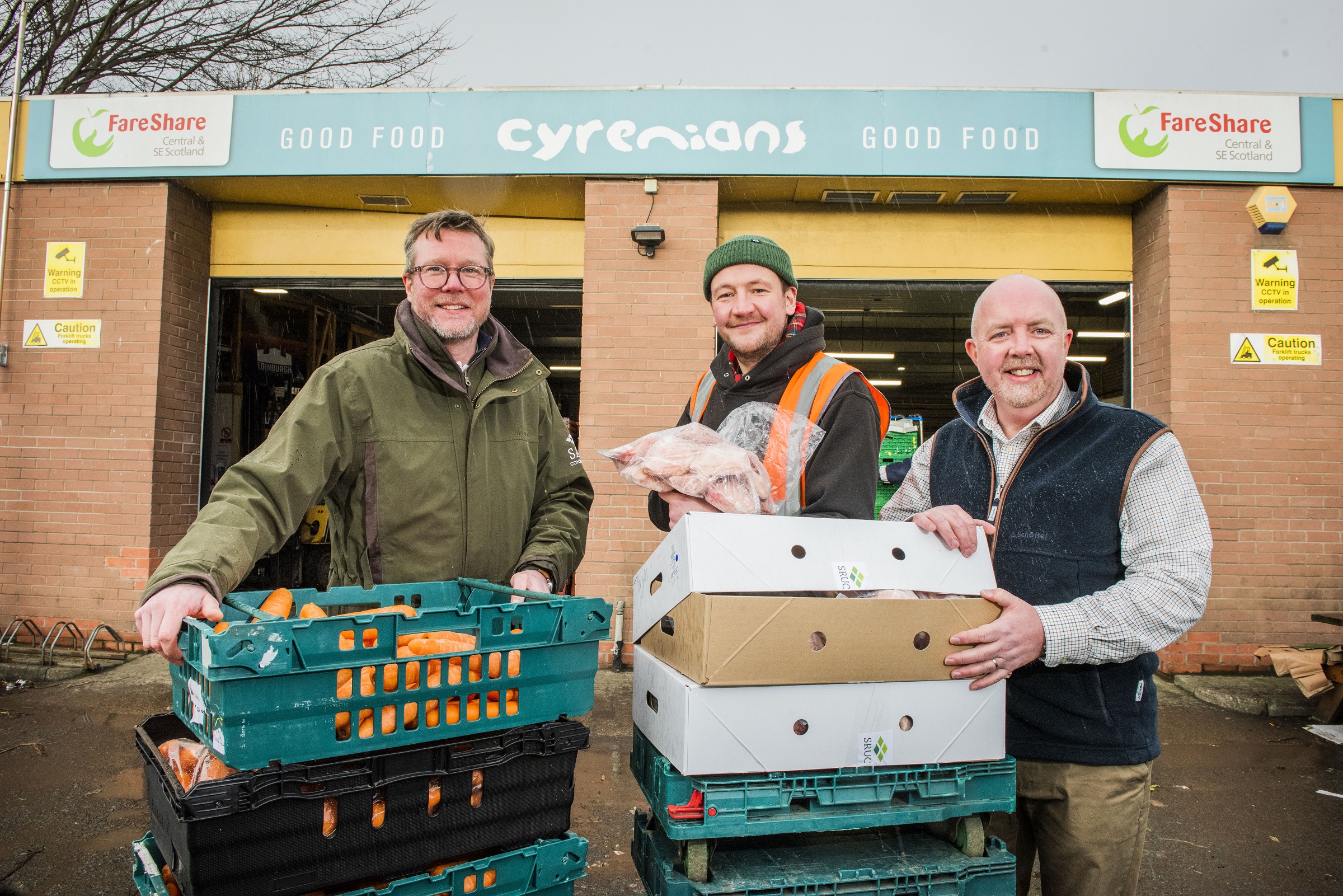 Neil Clelland from SRUC, FareShare Service Manager Craig Buchan and Ivor Richmond from Aviagen with food donations.
Nearly 156,000 meals were donated to more than 800 charities in 2021 using chicken supplied by SRUC and poultry breeding company Aviagen®.
SRUC and Aviagen contributed 65.4 tonnes of chicken breasts and legs from their jointly owned poultry processing plant in Edinburgh to the UK food redistribution charity FareShare.
The 832 charities receiving the 155,717 meals last year included those serving people on low incomes, clubs for school children, services for people experiencing homelessness, community groups serving older people and organisations for people with mental health conditions across the UK.
SRUC and Aviagen are now in the process of becoming one of FareShare's Leading Food Partners – a scheme that recognises food businesses which consistently divert their edible surplus food to charity and community groups, fighting food waste and reducing their carbon footprint.
As well as cutting down on food waste, the chicken donations saved the equivalent of 104.64 tonnes of CO2 and 98,100,00 litres of water.
Andrea Whipp, Food Commercial Officer at FareShare, said: "We are facing even more challenging times ahead and to receive consistent donations of good quality chicken from SRUC and Aviagen is invaluable.
"Working with them has been a joy. It is more than just providing surplus food. They are genuinely interested in how the food helps and are looking for other ways to support FareShare."
"Working with FareShare is a very straightforward and simple process and we would encourage other businesses to get involved.
Magnus Swalander, General Manager of Aviagen Ltd, said: "It is an honour to be able to give back to our local community in this way. Aviagen, SRUC and FareShare have a common commitment to sustainability, and we all work collaboratively to help feed the world, while doing our part to preserve our planet for future generations."
SRUC and Aviagen started donating chicken to FareShare at the beginning of the coronavirus pandemic in April 2020 to alleviate stock pressures caused by the closure of hospitality and food services during lockdown.
Posted by SRUC on 24/02/2022