Cream of the crop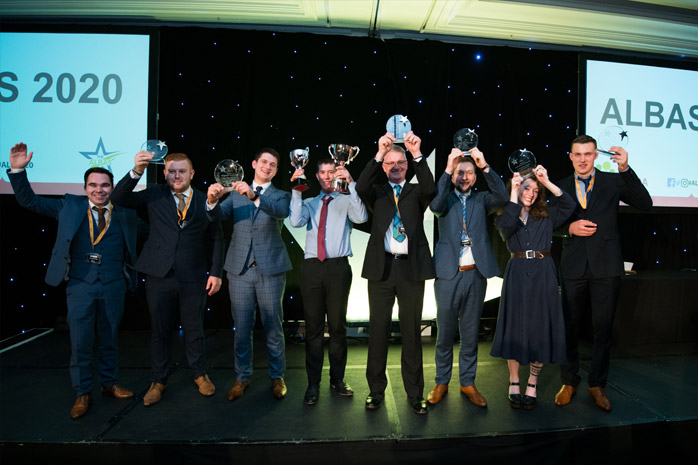 "Winners from SRUC celebrate their achievements at the ALBAS"


Ten students and trainees representing SRUC were celebrating last night after picking up a selection of awards at Lantra Scotland's ALBAS event.
Around 240 guests attended the newly named Awards for Land-based and Aquaculture Skills at the DoubleTree by Hilton Hotel Dunblane Hydro.
Perthshire farmer and stand-up comedian Jim Smith, a former student at SRUC's Craibstone campus in Aberdeen, presented the winners and runners-up awards for the agriculture, aquaculture, equine, environmental conservation, game and wildlife, horticulture, land-based engineering, and trees and timber industries.
There were also prizes for Higher Education, Secondary Schools, Modern Apprentice of the Year and CARAS (Council for Awards of Agricultural Societies).
In addition to the awards picked up by students and trainees, SRUC's Director of Marketing, Digital and Communications Caroline Bysh was part of the Women in Agriculture Taskforce which won the inaugural Anna Murray Partnership Working Award, presented by Jamie Hepburn MSP, Minister for Business, Fair Work and Skills.
She said: "I am really proud. We have worked incredibly hard and it hasn't always been easy. I'm looking forward to seeing where it takes us."
Overall Runner-up was Shaun MacLeod, 17, who has been doing an apprenticeship in agriculture with Matheson's Ltd through SRUC at Oatridge. He also won Modern Apprentice of the Year, a CARAS award, and the Agriculture Learner of the Year category.
He said: "I'm really pleased as I have worked hard. The apprenticeship has been really good as you learn more from being on a farm than in a classroom and I enjoy being outdoors."
Jack Young, 19, who did an HND in Agriculture at Oatridge and now works for WG Young at Overton Farm, also won a CARAS award and was Higher Education Award Winner at SCQF Level 7–8.
Oatridge students Hanna Rennie, 27, who is studying for an HND in Countryside Management, won the Environmental Conservation Learner of the Year award and Laura Graham, 20, who is doing an HND in Equine Studies, won Equine Learner of the Year.
Greig Lambie, 20, who completed a three-year apprenticeship with Daniel Ross Engineering Ltd in Lanark and SRUC at Oatridge, won Land-based Engineering Learner of the Year.
Euan Sneddon, 18, and Javin Hannah, 24, who both did apprenticeships in Trees and Timber with Forestry and Land Scotland through SRUC Barony, won Trees and Timber Learner of the Year and the runner-up award respectively.
Runner up awards also went to Lee McPherson, 49, who did an SVQ in Parks, Garden and Green Spaces with East Lothian Council; Lawrence Martin, 30, who did an apprenticeship in agriculture with Carbeth home farm; and Gavin Elrick, 22, who did an SVQ in Land-based Engineering (Ground Care Machinery) with Fairways Groundcare.
David Hopkins, Dean of SRUC's Central Faculty, said: "We are really proud of all our students who were nominated for an award. They represent the cream of the crop from SRUC's wide range of land-based courses.
"I would also like to pay tribute to our staff who work tirelessly to ensure all our students achieve their full potential."
Visit work-based learning to find out more about Modern Apprenticeship opportunities.
Posted by SRUC on 06/03/2020