Careers stemming from STEM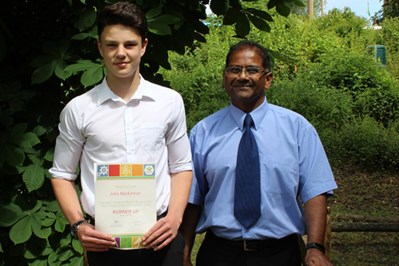 "John Mackinnon with his teacher Ranjit Fernandez"


Three students from secondary schools in Aberdeenshire have won prizes in an annual competition run by Scotland's Rural College to highlight STEM-related careers.
Liam Aiken, from Kemnay Academy, beat off competition from 150 entrants to win £200 – and a further £100 for his school – for his poster advertising veterinary nursing careers.
Christopher Hale, also at Kemnay Academy, and John Mackinnon, from Lathallan School, were named as runners-up for their adverts for professional chef and garden designer positions, winning £100 each.
The competition was introduced by SRUC three years ago to highlight careers available to students in the fields of science, technology, engineering and mathematics, after completing a course at one of its campuses.
Open to secondary schools across Scotland, pupils had to design an A4 advert for a job which requires a STEM-related subject and state why this qualification was necessary.
Professor Wayne Powell, Principal and Chief Executive of SRUC, said: "We were delighted to receive so many high quality entries to our STEM competition.
"SRUC has many courses which can lead to careers working outdoors with animals, conservation, renewable energy and many more.
"STEM-related subjects such as maths, biology, chemistry and geography are a great way to start on the path to a career you can be passionate about."
Rhiann Gibson, Technical Teacher at Kemnay Academy, said: "It is fantastic news. I'm really pleased so many of our pupils took the time to participate, and having two prize winners is amazing."
Ranjit Fernandez, Principal Teacher of Business Studies and Computing Science at Lathallan School, said: "It is so good to hear that John has been recognised for the excellent poster that he made for the competition.
"All of my S3 class studied the recruitment process and then researched job advertising. This culminated in them studying the SRUC website and the competition details, before creating a job advert about a career option of their own choosing.
"The competition was perfect for myself as a teacher to be able to assign a task that fulfilled my assessment needs. For the pupils, it allowed them to apply their learning with the added motivation to try and win one of the prizes."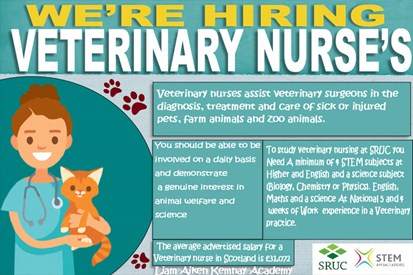 "Liam Aiken's winning entry"
Posted by SRUC on 03/07/2019