Cabinet Secretary launches new land matching service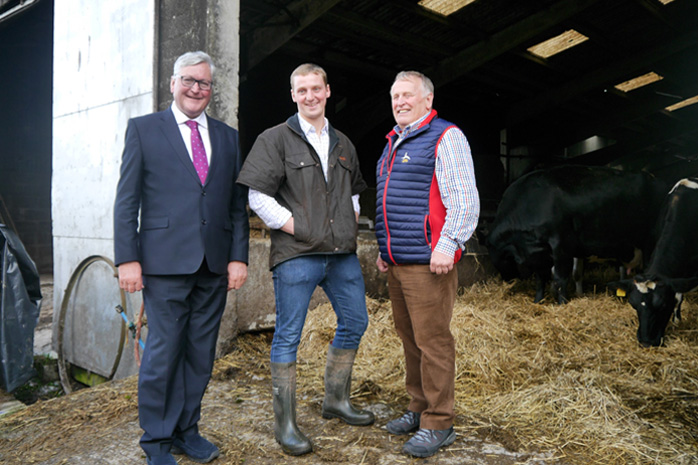 "Rural Economy Secretary Fergus Ewing launches land matching service with farmers Patrick Kimpton and Robin Young"


The launch of a new land matching service to tackle the issue of an ageing farming population and improve access for new entrants has been welcomed by consultants at Scotland's Rural College.
The service, which aims to help new entrants start a farming business or allow existing farmers to diversify and/or reduce their day-to-day role on the farm, was formally launched by Rural Economy Secretary Fergus Ewing at a visit to a farm in Dunblane.
He also announced the appointment of Ian Davidson, formerly Head of Agricultural Policy at the Scottish Government, as an independent adviser to the service.
Mr Ewing said: "The availability of land remains one of the primary barriers to attracting new entrants to farming and I am clear overcoming this challenge is vital for the future sustainability of the industry.
"With current land matching, joint venture and contract farming agreements administered by a range of parties, the advice available is often ad-hoc and variable in quality. That is why this new service is so important, as it will manage a database of potential service users and then offer them support to achieve a mutually beneficial outcome.
"I am also delighted Ian Davidson has agreed to be an independent adviser to the service, which I hope will help to alleviate the historic problem of an ageing farming population and lack of access to land for new entrants."
The service will help farmers plan a transfer of their business or rent surplus land to another farmer.
It will be hosted by the NFUS, which already runs a Joint Venture Hub­ – ­­supported by SAC consultants, providing a sign-posting service for potential new entrants and land owners.
The Farming Opportunities for New Entrants (FONE) group will provide guidance on issues including areas of work focus, budget and objectives.
SAC Consulting – part of SRUC – will play an important role by supporting prospective partners with an initial feasibility study to see if their proposition will support both businesses moving forward.
Andrew Lacey, Head of SAC Consulting, said: "The aspiration to provide a land matching service was set out in the recent Programme for Government and it bodes well that it has been realised so quickly, thanks to cooperation amongst industry players, including ourselves.
"We are really proud to be involved and we look forward to supporting farmers across the country to take advantage of this service and realise opportunities as share farmers and as joint venture partners."
The service was launched at Waterside Farm in Dunblane.
Posted by SRUC on 27/09/2019