Best greenkeeper par none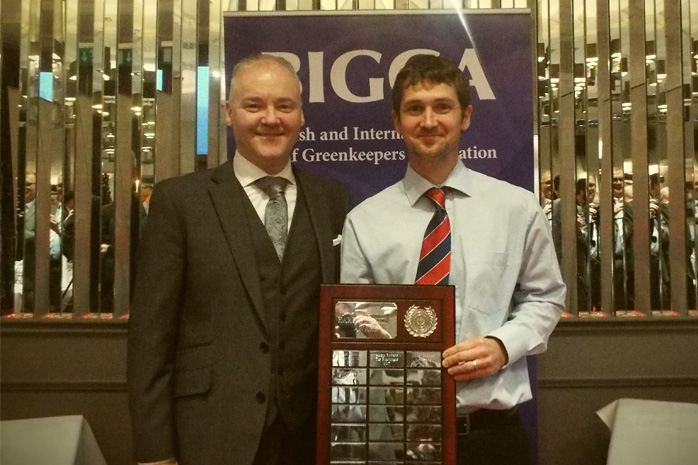 "Gary Smith from STRI (left) presents Kyle McClung (right) with the Harry Diamond award"


Former Elmwood Golf Management student Kyle McClung has been named as top student greenkeeper in Scotland.
He was awarded the Harry Diamond award by BIGGA (British and International Golf Greenkeeping Association) at the annual awards lunch earlier this month.
The award, which is sponsored by the Sports Turf Research Institute (STRI), is open to greenkeepers in Scotland who are studying for a qualification to help them progress in their career.
Kyle, who lives in Alva and is a greenkeeper at Glenbervie Golf Club, completed an NC in Greenkeeping at SRUC's Elmwood campus before taking up a work placement at Turnberry Golf Resort – which led to the offer of a full-time position.
He then moved to work as a greenkeeper at Gleneagles Hotel, and completed an HNC in Golf Course Management via distance learning, graduating in July.
As part of the selection process for the award, he did a course walk at Ladybank Golf Club in Fife with Course Manager Colin Powrie, before sharing his ideas about the agronomy, ecology and maintenance practices employed by the greenkeeping team with members of the selection panel.
As well as receiving a personalised award trophy and having his name added to the Harry Diamond Shield, Kyle received an invitation to the BIGGAR Turf Management Exhibition with £250 towards the Continue to Learn programme, and a contribution towards travel expenses.
Programme leader Mike Clark, who nominated Kyle for the award, said: "Kyle fought off some really strong peers to win the award.
"He is an inspiration to all of SRUC's Greenkeeping and Golf students, demonstrating how the right attitude and application can lead to a successful career."
Kyle said: "It is an honour for me to receive this award and it's a nice recognition for the hard work I have put into my studies over the years.
"Thanks have to go to Mike Clark for my nomination, and indeed all of the Golf Course Management lecturers at SRUC Elmwood, for giving me the platform to further my studies and hopefully progress within the industry."
Posted by SRUC on 17/12/2019