Back to earth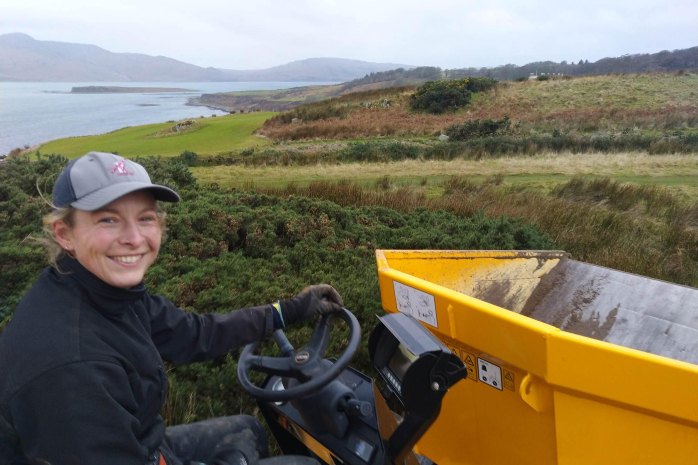 "Greenkeeping student Laura Sayer-Hall at Ardfin Golf Course on Jura"


After visiting her sister on Jura last year, Greenkeeping student Laura Sayer-Hall fell in love with the Inner Hebridean island and quit her job to move there full-time.
While working in the island's one and only pub, she got talking to some greenkeepers at Ardfin Golf Course and they asked if she would be interested in applying for a seasonal job.
Laura, 32, who is originally from The Wirral in the North West of England, had never had anything to do with golf but decided to give it a shot because she likes being outdoors.
It was a far cry from her previous jobs as a laminator in the aerospace industry and house renovator, but she took to it immediately.
She said. "I absolutely loved it and so took on a permanent role at the end of the season and haven't looked back since."
As part of the role, she received funding to study the theory behind the practical work she was doing out on the course and chose to do a Sports Turf Maintenance SVQ Level 2 qualification at Scotland's Rural College (SRUC).
Laura attends classes at SRUC's Elmwood campus in Fife on a block release basis so she can continue to work on the island.
"I chose SRUC Elmwood as it is one of the most respected turf colleges in the industry," she said.
"The course is a great first step into formal turf education. It will show employers that I have received a certain level of training both on the theory and practical sides of greenkeeping."
After finishing the two-year course, she hopes to continue her greenkeeping education by enrolling on either the HNC or HND Golf Course Management course.
In the meantime, despite the golf course being closed to golfers during the Covid-19 lockdown, Laura has been able to continue working at Ardfin.
Course Manger Simon Crawford said: "When you take on staff, you're always hopeful they will love the job. With Laura, she has shown how much she enjoys work every day with her standout attitude. She picks up new skills very quickly and has a real passion for the job, Ardfin and life on Jura. She is a great asset for the place."
Mike Clark, Programme Manager of Greenkeeping & Golf Management at SRUC Elmwood, said: "Laura enrolled on the SVQ2 at SRUC Elmwood bringing a passion and thirst for knowledge for the theory behind the practical skills gained in her workplace at Ardfin."
For more information about studying Greenkeeping at SRUC visit sruc.ac.uk.
Posted by SRUC on 07/05/2020