Awards recognise enterprising spirit of former SRUC students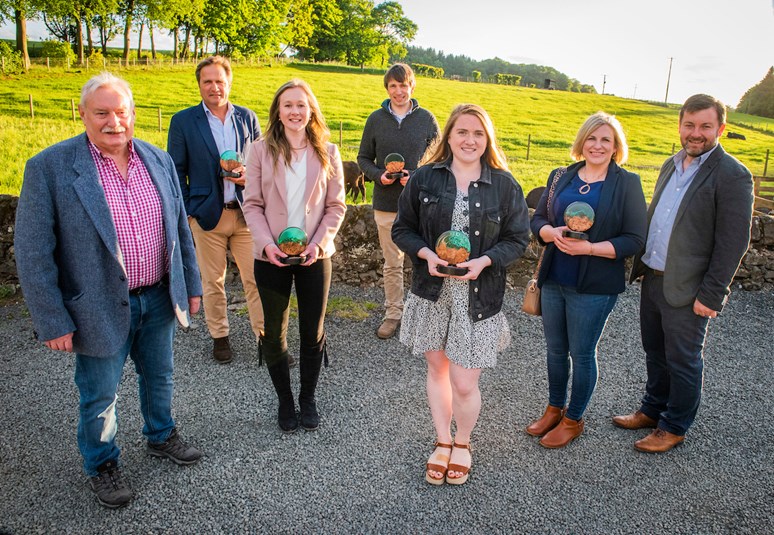 Wayne Powell with former SRUC students who received awards at inaugural event.
An ethical influencer and climate activist was among the winners at the first ever Alumni Entrepreneur Network awards, organised by SRUC.
Laura Young, from Glasgow, scooped the Alumni Champion Award at the event on Saturday, which recognised former SRUC students who are industry champions and a key part of Scotland's natural economy.
Tommy Dale, of Forth Resource Management in East Lothian, won the Environmental Sustainability Award and Anna and Ross Mitchell, of Castleton Farm in Aberdeenshire, won the Diversification Award.
Katie Philips, of Pasture Poultry in the Borders, won the New Entrant Award and Lochy Porter, of Angus Soft Fruits, won the Innovation Award.
The event, which was hosted by former SRUC student Steven Mitchell at The Buffalo Farm in Fife, focused on enterprising businesspeople from the alumni community working in the food and farming sector. 
Laura, who has more than 50,000 followers on Facebook, Twitter and Instagram and regularly appears on TV and radio providing advice about how to live an environmentally conscious lifestyle, was described as a "stand out" candidate in her category
Tommy was recognised for his work recycling green materials which would otherwise have gone to landfill
Anna and Ross were awarded for their "impressive and sustainable" farm shop and café
Katie Philips received an award for diversifying from pet food to supplying high end restaurants
Lochy Porter was recognised for his very innovative approach to producing and marketing soft fruit in Scotland
Wayne Powell, Principal and Chief Executive of SRUC, said: "It is exciting to meet our alumni who are really making a difference in the world and it's great to see them coming together to create an alumni community.
"It is a great advert for SRUC and our values, and it is also important in this economy which is depending on more entrepreneurs."
For more information visit our Alumni Entrepreneur Network pages or email: alumni@sruc.ac.uk.
Posted by SRUC on 30/05/2022