Award-winning student is "epitome of resilience"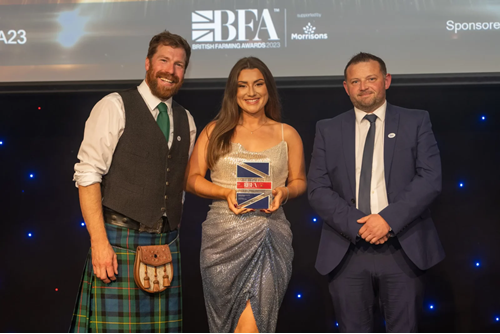 Naomi Ramsay is named Agricultural Student of the Year at the British Farming Awards
SRUC is celebrating a second successive win at the British Farming Awards after Naomi Ramsay was named Agricultural Student of the Year.
It is the second year in a row this award has gone to an SRUC student, after Rhona Campbell Crawford's win last year, and the second year it has gone to a student from a non-farming background.
It rounds out a memorable year for Naomi, who won the Higher Education HND category, as well as a CARAS award, at Lantra Scotland's Awards for Land-based and Aquaculture Skills (ALBAS) in March.
Naomi, from East Lothian, is studying for a BSc in Agriculture at SRUC's Edinburgh Campus, having previously completed an HND at Oatridge. She also works as an intern at SAC Consulting.
She decided to pursue her dream of working outdoors with livestock during lockdown after years of questioning her abilities due to her dyslexia diagnosis.
Through her own hard work and support from SRUC, Naomi - who rears her own lambs - has gone from strength to strength and is now in the fourth year of the Honours programme.
Lecturer Craig Davidson, who nominated Naomi, said: "I am so incredibly proud of how far she has come through trials and tribulations, while navigating through the complexity of dyslexia and not being from a farming background.
"She is the epitome of resilience."
For more information about studying at SRUC, visit: Study With Us | SRUC
Posted by SRUC on 20/10/2023