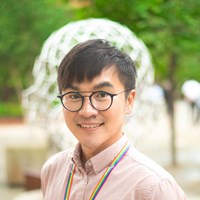 Hi I'm
Dr Pattanapong Tiwasing
Position: Researcher in Rural Enterprise
Location: Edinburgh Campus
Expertise:

Business Management and Finance
Natural Economy
Policy
Climate, Environment and Wildlife
Agriculture, Crops and Soils
I am a Researcher in Rural Enterprise at SRUC's Rural Policy Centre and an Honorary Research Fellow at the Centre for Business in Society (CBiS) at Coventry University.
I am a bilingual academic, Thai and English, with skills in data analysis and econometric modelling. I hold a PhD in Agricultural and Applied Economics from Newcastle University. Prior to joining SRUC, I was a Research Fellow and Data Analyst at CBiS, and I used to work as a Research Associate in Rural Enterprise at the Centre for Rural Economy (CRE) at Newcastle University.
Before settling in the UK, I used to work as a lecturer in Agribusiness at Chandrakasem Rajabhat University in Bangkok. I was also a researcher at the Thai Health Promotion Foundation linked to the Ministry of Public Health, Thailand.
My research focuses on varied topics, such as rural enterprise, rural digital economy, small business economics and other applied economics. I have published several refereed journal articles and book chapters, for example in the Journal of Rural Studies, International Journal of Entrepreneurial Behaviour and Research, and Growth and Change. I have presented papers to conferences on a global basis.
As well as doing research, I have experience in supervising PhD students and delivering lectures to undergraduate/postgraduate students. I also used to serve as a grant reviewer for the British Council.
Since 2018, I have successfully secured funding for over £200k from both national and international organisations including the ESRC Productivity Insights Network; Department for Environment; Food and Rural Affairs (DEFRA); Department for Business, Energy and Industrial Strategy (BEIS), and the Thai Government.
Areas of expertise and interests
Business Management and Finance
Natural Economy
Policy
Climate, Environment and Wildlife
Agriculture, Crops and Soils
I'm currently working on
novel insights into Scotland's rural and island economies
shaping sustainable, inclusive and just rural and island communities in Scotland
sustainable technologies, green skills and upscaling behaviours
My professional highlights
Honorary Research Fellow, Centre for Business in Society (CBiS), Coventry University
Member of Institute of Small Business Entrepreneurship (ISBE)
Accredited Researcher, Office for National Statistics (ONS)
Member of The Academy of Business in Society (ABiS)
Grant Reviewer (Newton Fund), British Council
Additional links