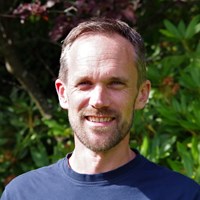 Hi I'm
Neil Burns
Position: SRUC Challenge Research Fellow
I am a quantitative ecologist specialising in population and ecosystem health. My research explores population processes related to animal distributions, movements, and connectivity in marine environments.
As an SRUC Challenge Research Fellow, I aim to explore the importance of linked habitats to populations, ecosystem health, and ecosystem services and develop the field of marine landscape ecology.
My current research projects on the sustainability of wrasse fishing in Scotland, sustainable fisheries management in mangrove habitat in Bangladesh and coral reef health in Egypt adopt an interdisciplinary approach by working with social-science colleagues to combine state-of-the-art statistical methods with qualitative techniques.
While fisheries and marine ecosystems are integral to the survival and livelihoods of millions of people worldwide, they also represent some of the least understood systems and environments on the planet. My research findings can provide immediate practical benefits addressing challenges to food security and environmental change, as well as allowing broadscale ecological, population and community ecology concepts to be tested.
Find out more about our research services