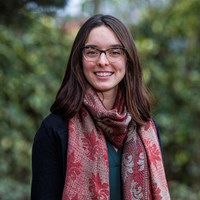 Hi I'm
Kaia Waxenberg
Position: Agrecalc: Scientific Translation
Location: Edinburgh Campus
Expertise:

Agriculture, Crops and Soils
Climate, Environment and Wildlife
I joined the Rural Economy, Environment and Society team in October 2021, focusing on the scientific development of the Agrecalc tool. My role involves designing new Agrecalc modules and updating current modules to reflect the latest Intergovernmental Panel on Climate Change (IPCC) and National Inventory methodologies and research in agriculture and climate change. I translate this science into our web-based platform. I also contribute to education and customer outreach for Agrecalc and support REES research projects.
This role has been a great gateway into the agricultural sector, and I'm always keen to get involved in projects that will teach me more about farming, mitigation, agroecology and novel production systems. I am passionate about applying my technical and analytical skills to further the evidence base for sustainable food production.
With an academic background in ecology and plant sciences, I have experience in carbon accounting, water chemistry, geology, leaf spectrometry and crop trials. As part of my recent MSc studies at SRUC in Environmental Protection and Management, I completed a cost-benefit analysis and life cycle assessment of Aquaponic farming in the UK. This work has translated well into my carbon footprinting work at Agrecalc and a recent consulting project providing a carbon footprint for a vertical farm in Scotland.
I grew up in New York City and have been loving the Scottish landscape since moving up from England last year. My weekends generally involve hiking or camping of some sort – I'm always grateful for destination recommendations! I'm also working on a yoga teaching qualification on the side.
Areas of expertise and interests
Agriculture, Crops and Soils
Climate, Environment and Wildlife