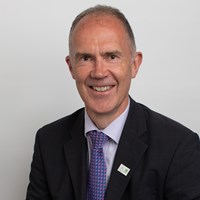 Hi I'm
Hugh Anderson
Position: Director of Finance
I am an experienced finance professional having held senior roles in large corporates, SMEs and in academia.
Prior to joining SRUC, I was the Finance Director for the Digital Health & Care Institute (DHI), a Scottish government funded innovation centre hosted by the University of Strathclyde. I was responsible for leading the process that secured follow-on funding of over £5 Million for DHI in early 2017. I was also part of the team that transformed the strategic agenda of DHI, establishing a new innovation model for digital health and care in Scotland.
I have demonstrable experience in influencing the strategic and commercial agendas in a variety of sectors, with the ability to critique and dissect market dynamics to add value.
During my time with Scottish & Newcastle Plc, I was Finance Director for their Regional On-Trade business, leading a finance team of over 50 staff, delivering an operating profit of over £175 Million. I went on to a role in corporate development where I was responsible for the Group Strategic Planning process prior to the sale of the business for over £8 Billion.
I am an ICAS-qualified Chartered Accountant by background, being a prize-winner in the final exams. A solid base of accounting and broader financial, commercial and change management skills were developed in public practice in my time with Arthur Andersen in the UK and Australia.
I moved into corporate recovery and also spent time in the corporate finance team of the investment bank, Noble & Co. I am a committed, motivated leader with a 'can-do' attitude to making things happen.
In my spare time, I lead an active life with my family and enjoy various sports including coaching rugby, playing golf, running, and skiing.
Find out more about our services