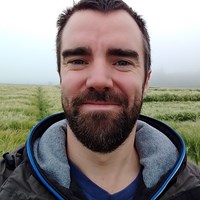 Hi I'm
Dr Henry Creissen
Position: Research Fellow/Lecturer in Crop Protection
Location: South East Scotland
After completing my PhD in plant ecology and pathology at the John Innes Centre in 2013, I worked as a Researcher for the Organic Research Centre, where I was involved in large European projects on conservation agriculture (OSCAR) and plant breeding (COBRA).
In 2015 I moved to Teagasc, Ireland to develop sustainable approaches to disease management in arable crops, and improve adoption of best practice at farm level.
In my current role at SRUC I am a work package leader in Scottish government funded work on Integrated Pest Management (IPM) where I'm building on strong links I have with various research institutes in the UK and Europe. I also have experience of conducting cropping systems research in West Africa (Sierra Leone, Guinea Bissau).
In addition to my research commitments I regularly contribute to meetings of growers, agronomists and the agrochemical industry (such as SRUC open days and workshops, Farm Advisory Service, Arable Scotland).
I am module coordinator for 'New Perspectives in Plant Protection' in the BSc Horticulture and BSc Agriculture degree programmes and 'Plant Protection: Integrated Approaches' in the HND Horticulture and HND Agriculture programmes. I also deliver teaching content for other SRUC modules, such as Agronomy, Plant Biotic Interactions and Organic Production Systems.
I teach on the University of Edinburgh's BSc Plant Science programme and SRUC/University of Edinburgh's joint venture, the Global Academy of Agriculture and Food Security BSc and MSc programmes.
I'm currently working on
developing effective integrated disease management strategies for arable crops,
particularly barley because of its significance to Scotland
quantifying adoption of IPM practices at farm level through stakeholder
engagement and farmer surveys
improving adoption of IPM practices through knowledge transfer and exchange
activities
My professional highlights
led a team of researchers in developing a metric to measure IPM practices on temperate arable farms
working with the National Farmers Union, the National Farmers Union Scotland and the Voluntary Initiative in England and Scotland to improve their IPM plans based on the above research
Find out more about our research services