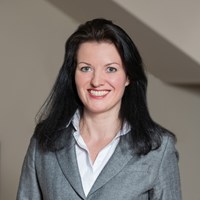 Hi I'm
Dr Hannah Rudman
Position: SRUC Senior Challenge Research Fellow and Data Policy Lead
Location: Edinburgh Campus
Expertise:

Natural Economy
Policy
Technology
I am a digital transformation expert practitioner, entrepreneur and academic. Currently, I am SRUC's Senior Challenge Research Fellow & Data Policy Lead. My applied research and development work is grounded in interdisciplinary participatory action research, which is practice-led, rather than practice-based, and typically helps to create actionable knowledge with participants.
I have a PhD in Information Systems, and a distinction MRes in Drama and IT; a PGCert in Computer Science; and a first class BA (Hons) in Drama from Royal Holloway, University of London.
Digital and data innovations and their impacts are the subjects of my research projects. I have interests in digital ethics, and am a member of The Scottish Government's Digital Identity Scotland Technical Expert Group.
I co-authored Distributed Ledger Technologies (DLT) in Public Services commissioned and published by The Scottish Government in 2018, and am an Expert Evaluator for the European Commission's European Innovation Council. I was Special Advisor to the Cultural Enterprise Office and Scottish Arts Council/Creative Scotland. I am also an experienced non-executive director and serve as Board Trustee for the National Galleries of Scotland. I have previously held directorships/trusteeships on the boards of Dynamo North East, New Media Scotland and Macrobert Arts Centre.
As an entrepreneur, I founded and ran Envirodigital, creating digital products that gave people agency to reduce carbon in their businesses and lives.
I also used to run my own practice, which designed and delivered national Digital Transformation programmes. Attracting £multi-millions, and impacting over 250 enterprises at C-suite level, the programmes used my academically verified and internationally renowned The Digital:Transformation approach. I made keynote addresses on it at national conferences in Mexico and Australia and the UK.
Areas of expertise and interests
Natural Economy
Policy
Technology
I'm currently working on
Trustable Credit – I convene an adhocracy co-creating standardised processes for digital devices and their data measuring carbon sequestration, biodiversity and nature improvements
New carbon codes –  I'm undertaking feasibility studies for a UK Farm Soil Carbon Code, a UK Saltmarsh Code, and the extension of the Peatland Code to include lowland peats. These should help us develop new carbon markets for regenerative agriculture, saltmarsh restoration and lowland peatlands
Thriving Natural Capital Challenge Centre – We're enabling ecosystem market creation and showing how Scotland's natural capital is essential to addressing UN sustainable development goals. Our work focuses on advancing the fundamental interdisciplinary science of ecosystem services, and informing decision makers on the restoration of natural capital and its sustainable use
My professional highlights
As one of the European pioneers of Hyperdrama, I am cited on Wikipedia and in
many academic papers. My 1997 Hyperdrama, The Benefactor, is studied worldwide as a play written in hypertext, and has been translated into Chinese, German, Italian and Spanish
I co-produced with the National Theatre of Scotland the award-winning 24 hour online live participatory show, Five Minute Theatre
I was elected as Fellow of the British Computer Society in 2016, and as Fellow of the Royal Society of Arts, Manufacture and Commerce in 2007
I was Honorary Fellow at Durham University in 2015-19, bringing participatory action research together with information systems and attracting funding from The Wellcome Trust to create a longitudinal science experiment which is still live in the Life Science Centre in Newcastle
Additional links
Find out more about our research services