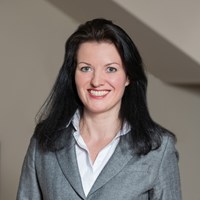 Hi I'm
Dr Hannah Rudman
Position: Reader & Co-Director of the Thriving Natural Capital Centre
Location: Edinburgh Campus
Expertise:

Natural Economy
Policy
Technology
My applied research and development work is grounded in interdisciplinary participatory action research, focuses on digital devices and their data for validating and proving Scotland's natural economy's impact on grand challenges – digital measurement, reporting and verification (dMRV).
I am a co-leader of the Scottish Nature Finance Pioneers network of over 400 people from over 190 organisations, and is Expert Evaluator for the European Commission's Research Executive Agency. I act as Advisor to the Scottish Government's Private Investment in Natural Capital and Agriculture and Rural Economy Digital Transformation programmes, and to the Executive Management Team of Agrimetrics, a UK Agritech Centre. I publicly serve as a Trustee of the National Galleries of Scotland.
I am a non-executive board Director of Highlands Rewilding, and convenor of Trustablecredit.com, an adhocracy creating international open standardised processes for digital devices and their data measuring carbon, biodiversity and nature improvements. I have a PhD in Information Systems, and a distinction MRes in Drama and IT; a PGCert in Computer Science; and a first class BA (Hons) in Drama from Royal Holloway, University of London. In previous careers, as an entrepreneur, I founded and ran Envirodigital, creating digital products that gave people agency to reduce carbon in their businesses and lives.
I also used to run my own Digital Transformation practice, which designed and delivered national Digital Transformation programmes. Attracting £multi-millions, and impacting over 250 enterprises at C-suite level, the programmes used my academically verified and internationally renowned The Digital:Transformation approach. I made keynote addresses on it at national conferences in Mexico and Australia and the UK, and eventually licensed my framework and tools to Technology Solutions Corporation Leidos.
Areas of expertise and interests
Natural Economy
Policy
Technology
I'm currently working on
Trustable Credit – I convene an adhocracy co-creating standardised processes for digital devices and their data measuring carbon sequestration, biodiversity and nature improvements
Biodiversity Measurement – I am running a number of on the ground projects using digital technologies to measure biodiversity. I sit on the World Economic Forum and United Nations' Environment Programme's Biodiversity Credit Alliance Task Force, and a number of working groups.
Thriving Natural Capital Challenge Centre – We're enabling ecosystem market creation and showing how Scotland's natural capital is essential to addressing UN sustainable development goals. Our work focuses on advancing the fundamental interdisciplinary science of ecosystem services, and informing decision makers on the restoration of natural capital and its sustainable use
My professional highlights
As one of the European pioneers of Hyperdrama, I am cited on Wikipedia and in
many academic papers. My 1997 Hyperdrama, The Benefactor, is studied worldwide as a play written in hypertext, and has been translated into Chinese, German, Italian and Spanish
I co-produced with the National Theatre of Scotland the award-winning 24 hour online live participatory show, Five Minute Theatre
I was elected as Fellow of the British Computer Society in 2016, and as Fellow of the Royal Society of Arts, Manufacture and Commerce in 2007
I was Honorary Fellow at Durham University in 2015-19, bringing participatory action research together with information systems and attracting funding from The Wellcome Trust to create a longitudinal science experiment which is still live in the Life Science Centre in Newcastle
Additional links
Find out more about our research services