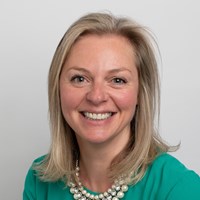 Hi I'm
Caroline Bysh
Position: Vice Principal, External Relations and Student Experience
Location: Edinburgh Campus
Expertise:
I have leadership responsibility for the full external relations agenda of SRUC. This includes marketing, student recruitment, communications and events, as well as digital communications and social media, alumni relations and fundraising, and political and public affairs.
My role is to design, cultivate and manage purposeful relationships for SRUC internally, locally, nationally and internationally. My teams work together to articulate the public benefit derived from SRUC's research and teaching, consulting, veterinary and other commercial activities. We support income generation and reputation management to deliver our institutional academic mission.
I also work on a number of pan-institutional transformation projects, including the South and West Programme, Student Journey and Experience, and CRM development. I love having such a full and busy portfolio and I am at my best when I have time to be creative as well as strategic, and when I can bring ideas to life with my colleagues.
I have worked in the further and higher education sector for 23 years and my background is in marketing, student recruitment (UK, EU and international), and strategy and brand development. I've worked with a large number of UK and international institutions as both a Director and as an external consultant. I enjoy bringing a range of skills and experiences to my role to keep challenging ourselves to improve and to learn from best practice.
The best things about my role? The variety, definitely – I've been at SRUC since August 2018 and no two days have been the same. My colleagues are fantastic; there is such dedication, commitment and good humour that it makes even the tough times enjoyable. I also value the privilege of being a woman in a senior leadership position and take real pleasure in supporting this agenda both institutionally and in the sector.
I have a young family, so am careful to manage my time to be able to give energy both to my work and to them. When I'm not being called on for endless snacks or enforcing homework, I sing in a 'Live Band Karaoke' band that raises money for charity. I perform in small choral consorts (mainly Renaissance polyphony), and swim year-round in the North Sea for an admittedly niche form of fun.
Areas of expertise and interests
Find out more about our services