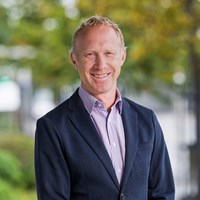 Hi I'm
Andrew Lacey
Position: Vice Principal, Commercial and Head of SAC Consulting
Location: South East Scotland
I am the leader of our SAC Consulting practice. I specialise in supporting the  sustainable growth of land-based business, working across enterprises whether it be in reducing emissions, building a business plan or improving productivity. I am a chartered engineer with extensive international experience in senior technical and business consultancy.
Much of my work has been at the interface between the public and private sector, leading major advisory and capital projects across the construction, energy, transport and education sectors.
My training has been across multiple disciplines with a blend of practical experience and academic learning at the universities of Leeds, Pennsylvania State and Cambridge.
I have particular strengths in the formation of policy, area regeneration and the execution of large projects and programs, from business case and raising finance through procurement, establishing appropriate governance, delivery and transfer to operations. I am a proactive leader, taking responsibility for my actions and delivering on my commitments.
I returned to the UK in 2017, following periods of work in China, Sweden and Turkey. My project work in these countries was wide ranging, from earthquake recovery in Turkey to practical uses for timber industry tertiary products and biofuels in Sweden, to being responsible for major capital investments into China, finally, as General Manager for a $250M manufacturing facility in Shanghai.
I draw on all these experiences working together with SRUC and SAC Consulting colleagues to invigorate the services that we can bring to the agri-food industry in the UK.
Find out more about our consulting services