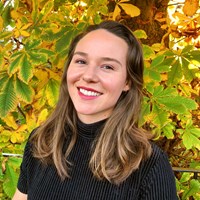 Hi I'm
Alexa Green
Position: Research Associate
Location: Edinburgh Campus
Expertise:

Climate, Environment and Wildlife
Policy
I am an early career researcher interested in the intersection between humans and the environment. My research focuses on how we can create transformational changes in our society to ensure a sustainable way of living for people and planet.
I am involved in a variety of projects that utilise my skills in qualitative research, stakeholder engagement and knowledge exchange. I also spend some of my time assisting in the delivery of the Environmental Protection and Management MSc.
I have a BSc in Psychology and a BA in Sustainability Studies from the University of Florida, USA, as well as an MSc in Environmental Protection and Management from the University of Edinburgh.
Before this role I worked for a non-profit organisation in the US and focused on improving recycling systems for national parks. I enjoy being out in nature, exploring new places, and learning new skills!
Areas of expertise and interests
Climate, Environment and Wildlife
Policy
I'm currently working on
international projects, such as the UNEP Global Peatlands Initiative
national/regional projects, such as the RESAS programme –
in particular looking at the circular economy and water-related issues
delivering and preparing policy spotlights on the latest trends in Scottish rural policy
My professional highlights
awarded a research fellowship with SEFARI Gateway and Loch Lomond and the Trossachs National Park Authority, which focused on exploring ways engage stakeholders to improve sustainable transport to the park
Additional links
Find out more about our research services